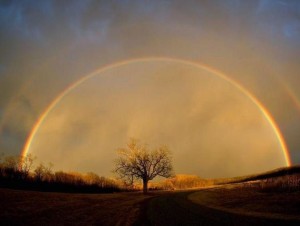 Who doesn't love a good miracle? What I've begun to discover is they happen more often than we realize. Statistically – and yes, there are statistics on miracles, we all experience a miracle about once a month. Little things that can happen to us every day can be viewed as miracles if we choose to. For example, last month when rushing to an appointment, I unknowingly parked in a tow away zone.
The miracle . . . After being gone for a little over an hour, my car was still there when I got back. I looked around for the tow truck that I could feel lurking close by, jumped in my car and got the heck out of there. Driving away, I was saying prayers of gratitude and relief since I knew it was a miracle that I didn't get towed.
Asking and believing in miracles tend to bring them about.
An older couple I know, Bob and Janis were forced to move from their home of many years because the real estate market in their area was heating up and the owners decided to sell and cash in. It put the couple in a "bad" situation. They had experienced a few years of financial stress due to ongoing health issues that cost them dearly. Moving is an expensive ordeal and Bob and Janis didn't have much in savings.
Besides the tight budget, they were facing a tight rental market. The costs of homes had doubled since the last time they moved. Landlords weren't always allowing pets and when they did the deposits and monthly fees drove the rents through the roof. With Social Security, and the odd job each picked up here and there, they always got by, but the coffers were not prepared for the several thousands of dollars needed to move.
They began to pray on it, they figured they needed a miracle. Every night they set aside 15 minutes to collectively direct their requests to a higher power. In the meantime, they held the faith and watched for encouraging signs. They didn't just rely on their prayers, they also did their part physically to keep the energy moving. They put the word out to everyone they knew. They set deadlines, looked at dozens of possible new homes, lined up movers, carpet cleaners.
There were a lot of naysayers telling them that the market was tight, they might have to move out of town, they'd never get what they wanted for the price they could afford and on and on. It didn't look good, but the couple told me they held the faith. Soon unexpected money began to show up, their credit reports came back higher than anticipated and an independent property owner from their neighborhood called and offered her condo at a reasonable price without an exorbitant pet fee.
They were riding high when moving day arrived. Their story continues with yet the biggest miracle of all. They were having an early morning breakfast at the local cafe waiting for the movers' call for final directions. The movers never called. Finally Bob reached one of the men who was verbally contracted to move them.
The mover told Bob that they had changed their minds, but would consider coming by to help for twice the amount of pay previously agreed upon. The moving van was rented, the house was entirely packed up, the carpet cleaners were scheduled for that afternoon and now it seemed they had no reliable movers. Again it was a matter of holding the faith.
Janis tells me she got an intuitive nudge to go up to a table of two young men at the cafe and ask them if they would be interested in a job for the day. With her husband doubting this approach he went off to pay for breakfast. As it turned out, the two men were working on a stand-by basis for one of the guy's father.
Since there was no need for their services at the time on their regular job they had some some free time and (ta da) were glad to make a few extra bucks by helping with the move. They also volunteered two other crew members and each had a pick-up truck. They agreed to split the 2 way fee that Janis offered 4 ways and walk away happy. It was a miracle – out of the blue!
Sometimes it takes a request, and sometimes the miracles just know when to show up. Either way, I'm always on the lookout, and I've learned never to hesitant to put in a petition.